Home»

Quality & Environmental Policies
Quality Assurance Initiatives
Satosen continuously strives to improve its quality in an effort to provide attractive, trustworthy products that meet or exceed our customer expectations.
Quality Policy
We strive to satisfy our customers by providing the high-quality products that they demand.
We endeavor to keep a close check on production conditions in our operations as we provide stable quality, appropriate delivery times and reasonable costs.
We strive to educate our employees regarding these quality policies, to publicize them on our website and to gain the understanding and cooperation of our partners.
ISO9001・UL Approval
Satosen has gained ISO9001 approval from the Japan Quality Assurance Organization.
Registration number: JAQ-QM3560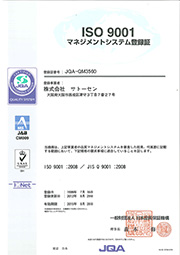 Environmental Initiatives
We strive to proactively fulfill our social responsibilities by carrying out corporate activities that promote conservation of the global environment and the prevention of pollution.
Environmental Policy
Our aim is to produce environmentally-friendly printed circuit boards.
We strive to construct and operate an environmental management system and to continuously improve this system to prevent pollution.
We act in compliance with environmental regulations and other pertinent regulations and standards.
We establish environmental goals and objectives and review these annually as our record of achievement dictates.
We familiarize all of our employees with these environmental policies, carry them out and strive to improve them. We also make these policies public.
ISO14001 Certification
Satosen has gained ISO14001 approval from the Japan Quality Assurance Organization.
Registration number: JQA-EM5663